Movint's case is quite unique, given that after 25 years of experience in the market under the same senior management, we are a company that remains independent of the other companies selling equipment goods.
Many of our clients were faced with a problem of lack of knowledge of the market when it came to contracting suppliers. This created serious problems such as inadequate suppliers who promised a lot but delivered very little, materials that did not match those that were originally offered, prices that changed during the execution phase when it was too late to change suppliers, and widespread failure to meet deadlines resulting in wasted time and money. To help clients solve these problems, the idea of offering a consultancy service for contracting arose. We have conducted hundreds of contracting advising, with very satisfactory results.
Our logistical service, for Assistance and advising on contracting of equipment for the implementation of facilities and/or supply of materials or equipment offers clients freedom and guarantee that the solutions proposed by Movint are those considered most suitable for the case at hand.
To that end, our objective concerning logistics consulting is: to advise our client when evaluating budgets, offers and information on price or brand alternatives, as well as to coordinate with equipment, facilities and machinery suppliers, until their implementation and launch.
The basic elements of this are:
List of planned equipment.
Processing of requests and offers.
Study of estimates from suppliers and comparative tables.
Negotiations.
Drawing up contracts.
Planning the supply of equipment and monitoring its setting up.
Works certifications and invoice validation.
Our contracting consultancy service includes requests for bids, to which we attach the facilities plans needed for each type of supplier, and additional information needed to prepare the tenders, including deadlines. For each type of element, several estimates will be requested, so that clients can choose the one that suits them best. We will receive the bids and evaluate them based on Price, quality, delivery periods, etc. We will prepare a comparative table of suppliers, make the client's contracting work easier.

We will assist the client in negotiating with supplier candidates, contributing our knowledge of the sector so the client can negotiate the best conditions and with the suppliers that offer greater guarantees of reliability. We can even advise on the contracting process, holding meetings with suppliers, and preparing contracts to be signed by the client and supplier, and negotiating deadlines and the corresponding penalties for delays.
We have a file of over 950 storage, distribution and logistics suppliers in the sector.
We are not connected to any manufacturer of equipment goods, or any company providing logistics services. We are independent. This guarantees that the criteria for analyzing suppliers is objective.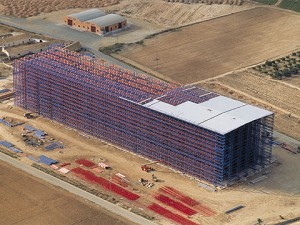 Once the facility has been awarded, we will monitor the suppliers' performance, concerning materials match with the bid that was contracted, quality of assembly, and meeting deadlines. We will monitor the application of penalties, if penalties have been planned and are necessary.
We will certify the building work done and the supplies made. We will validate supplier invoices, so that when clients pay suppliers, they can be sure the supply or installation has been carried out effectively.